Baring Your Soles: How Do I Start Barefoot Running?
Minimalist running barefoot was a common practice in many parts of the world before the advent of the modern footwear. Even today, in some parts of Africa and Latin America some people still run bare feet not because of the perceived health benefits, but due to inadequate resources. Unknown for many, barefoot running which is also referred to as natural running has been found through scientific research to be a healthy practice. This explains why the practice is again growing in popularity in some Western countries.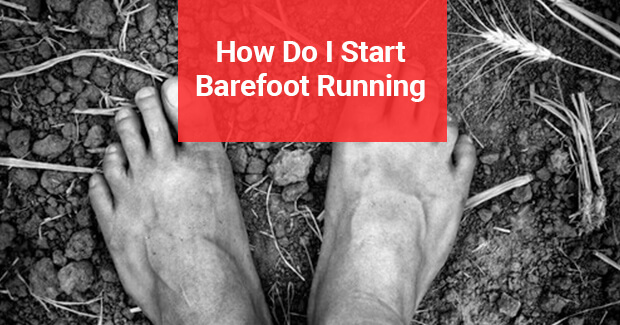 THE HISTORY OF BAREFOOT RUNNING
Most of the running in human history as we know it today was done while barefoot or with thin-soled shoes. The runners of Ancient Greece are believed to have been barefoot, a fact that didn't hinder them from recording great victories. Abebe Bikila, an Ethiopian marathoner won the Rome Olympics in 1960 while minimalist running barefoot after the shoe supplier, Adidas, had run out of shoes that could fit him.Bruce Tulloh,a British runner competed in lots of races in 1960s while running barefoot and in 1962 at the European Games, he won a gold medal in the 5000 meter race. Zola Budd, a South African runner in the 1980s, became popular for her barefoot minimalist running style. In 1985 and 1986, she won the IAAF World Cross Country Championships.
In the 21st century, barefoot running has started gaining a following with the 2010 New York City marathon seeing an increase in the number of barefoot runners.
HEALTH AND MEDICAL IMPLICATIONS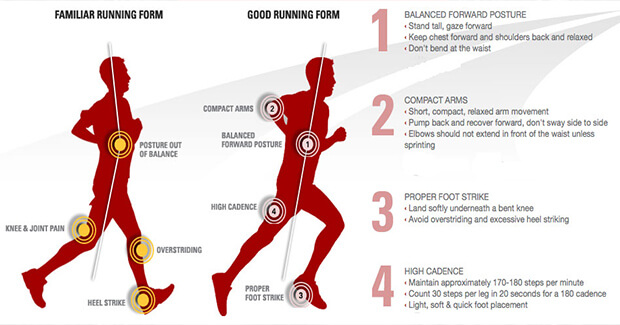 Since the 1970s when minimalist running shoes were developed and marketed in plenty, there has been an increase in injuries and this has prompted a number of runners to go barefoot. Structurally, the human foot is efficient at absorbing the shock of landing and turning the energy of a fall into forward motion through what is called the springing action. Among the benefits of running barefoot is that the plantar flexor muscles become pre-activated because the runners land with a springy step on the ball or middle of the foot.
Medical Implementation
Running shoes are said to increase the risk of plantar fasciitis, ankle sprains, as well as other chronic injuries. This notwithstanding, running shoes have also been found to have several advantages including protection from thermal injuries, bruising, puncture wounds and over-use injuries. Barefoot running dampens the impact as the foot hits the ground and removes stress from the plantar fascia. Another study also observed that muscle changes while minimalist running barefoot reduce energy use giving the runner an edge over his shod competitors.
MINIMALIST RUNNING AND NATURAL FOOTWEAR
For those who fear running barefoot because of the injuries, the alternative can be minimalist running with minimal footwear. As a matter of fact, natural shoes are what most runners wore before the coming of the modern running shoes.
Advantage of minimal footwear
The advantage of minimal footwear such as thin sandals or moccasins is that it gives you a similar gait as that of a barefoot runner, but protects your feet from abrasion, cuts, and any other injuries barefoot runners are exposed to. Many of the minimalist running shoes manufactured today are based on a scale of 1 to 10 where 1 refers to barefoot and 10 is a typical running shoe sole.
The design of minimalist running shoes differs with the manufacturer with others opting for slots for each toe and no cushioning while others have a segmented sole that gives greater flexibility and a significant amount of cushioning.
Minimalist shoe review
Minimalist shoes while shopping for a pair of running shoes.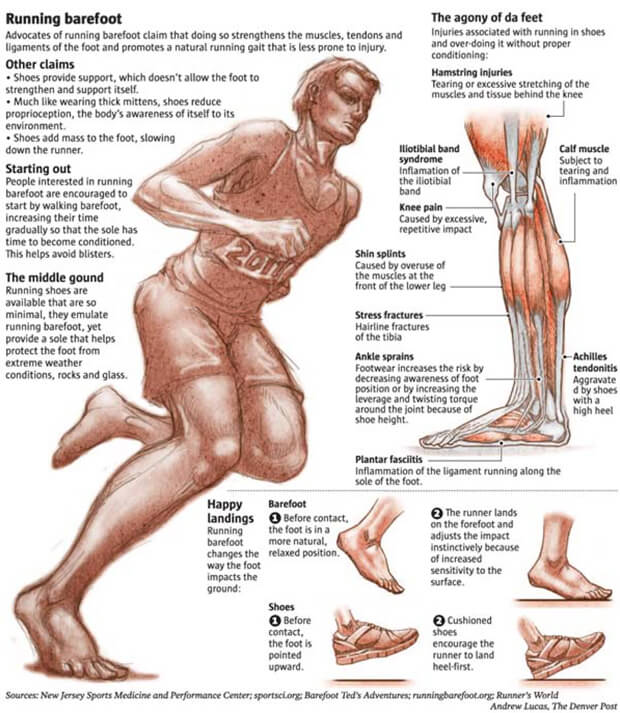 According to statistics, sales of minimalist shoes have grown into a billion-dollar industry in response to the appetite of runners for shoes that will increase their foot strength and training efficiency without exposing them to the risk of injury.